Table of Contents
iRobot Inventory
Author: Ashwin Thomas Email: thomaa7@unlv.nevada.edu
Date: Last modified on 08/04/17
Keywords: Roomba, iRobot, iCreate


The photo above depicts an iRobot Red roomba (left) and an iRobot Create (right).

Motivation and Audience
The purpose of this page is to inventory the units and summarize their functions. Readers of this page assumes the reader has the following background and interests:
* Know how to work with iRobot roombas
* Are interested in the inventory of iRobot units
* This tutorial may also attract readers who want to use the roombas
The rest of this tutorial is presented as follows:
Parts List and Sources
Details
This section gives details along with media to show the iRobot units.
The Reds can pick up small scraps of garbage along the floor and can navigate around obstacles as well as drops.
The Creates have all the motion capabilities as the Reds. However the Creates do not have any vacuuming parts, so they are unable to pick up any trash.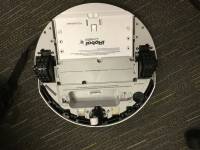 Final Words
This page's objective was to inventory the iRobot units within the lab. All the units are in working order and simply require batteries. The Reds can vacuum while the Creates can be used for teaching purposes.

Speculating future work derived from these units, includes potential programming projects. Plus the Reds can be used for lab cleaning purposes as well.

For questions, clarifications, etc, Email: thomaa7@unlv.nevada.edu