gear_vr_project_packaging_and_execute_app_at_the_real_device
Table of Contents
Gear VR Project Packaging and Execution on a Device (Note 4)
Keywords: Gear VR, Project Packaging & Deployment, Execute App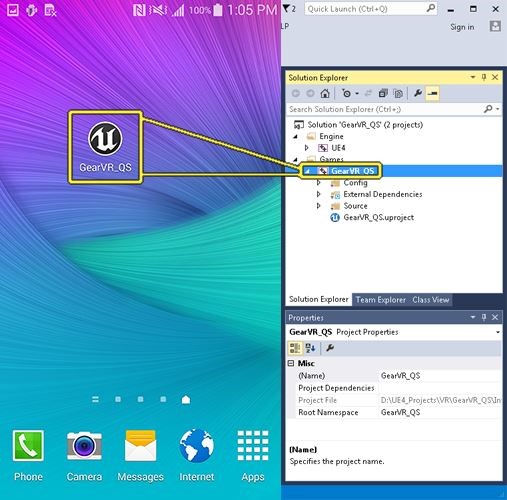 The photo depicts the basic Gear VR demo which allows you to how to package and execute the Gear VR Project. The big picture problem is to create a new project that will work with the Gear VR headset. Solving this partially or completely is important because it will give you idea how to download Android APP and execute it at the Note 4.
This tutorial shows you how to package and deploy the project that works with the Gear VR headset and takes approximately one hour to complete.
Motivation and Audience
This tutorial's motivation is to show how to download and execute Gear App that is developed by UE4. Your Samsung Galaxy Note 4 Smartphone should be connected to a USB cord and plugged into a USB port on the PC you are developing on. Readers of this tutorial assumes the reader has the following background and interests:
Know how to setup USB debugging mode of Note 4

Also know how to use tools of android SDK
The rest of the tutorial is presented as follows:
Parts List and Sources

Construction

Final Words
Parts List and Sources
US-based vendors to obtain material to complete this tutorial include (list relevant hyperlinks or phone numbers and addresses). To complete this tutorial, you'll need the following items.
TABLE 1: Parts needed to build
| PART DESCRIPTION | VENDOR | PART | PRICE | QTY |
| --- | --- | --- | --- | --- |
| Galaxy Note4 | Samsung | N910H‑Wht | 99.99 | 1 |
Construction
This section gives step-by-step instructions along with photos to check the step is correct or not.
Step 1
start the packaging process by going to the Main Toolbar and selecting File > Package Project > Android > Android ETC 2.
Step 2
Once you click on the Android ETC 2 option, a Windows dialogue box will be displayed. From this dialogue box, select or create a folder to save your packaged project to and then press the OK button to begin the packaging process.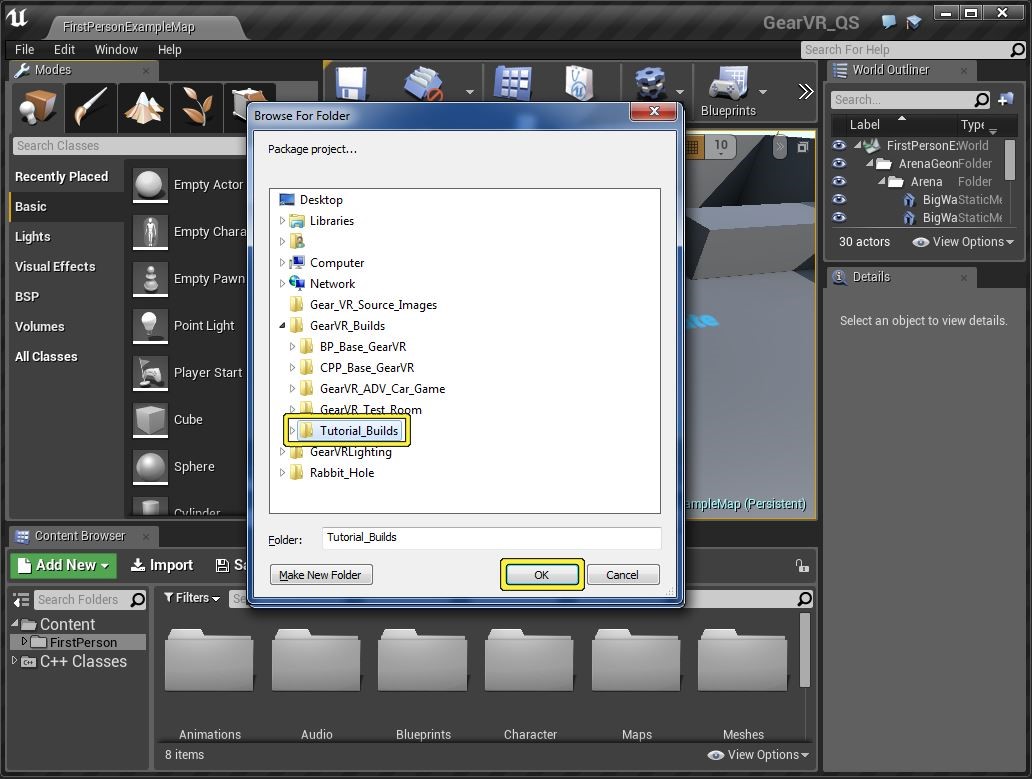 Step 3
Depending on the size of your project, the packaging process could take a few minutes or a few hours to complete. When it is completed the folder that you selected/created to save the build to should now have three files in it and should look similar to the image below.
Step 4
Next, run the .bat file which is located in the folder that the build was packaged to by Double-clicking on it with your Left Mouse Button. Once you run the .bat file, a command line window will be displayed that shows the current progress of the deployment to your Smartphone. When your project has been successfully deployed to your Smartphone, the command line window will shut itself down.

Step 5
Once you run the .bat file, a command line window will be displayed that will show you the deployment progress as well as any errors that may have occurred.
Step 6
Finally, after the command line window has closed, check your Smartphone for your newly created application which should use the same name used for your UE4 C++ project that it was created from. Launch the application and then place your Smartphone into the Gear VR Headset.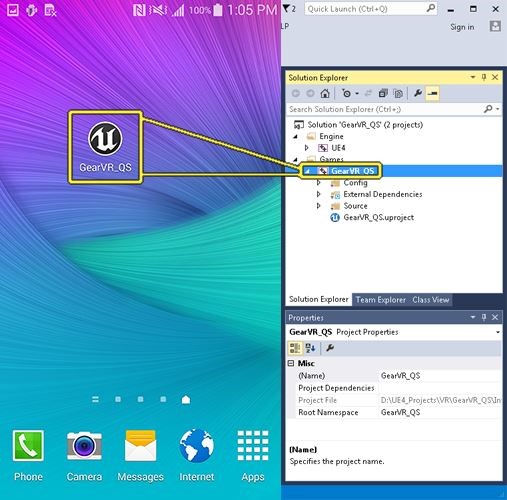 Step 7
First on your Samsung Galaxy Note 4 Smartphone go to Settings > Application Manager > Gear VR Service.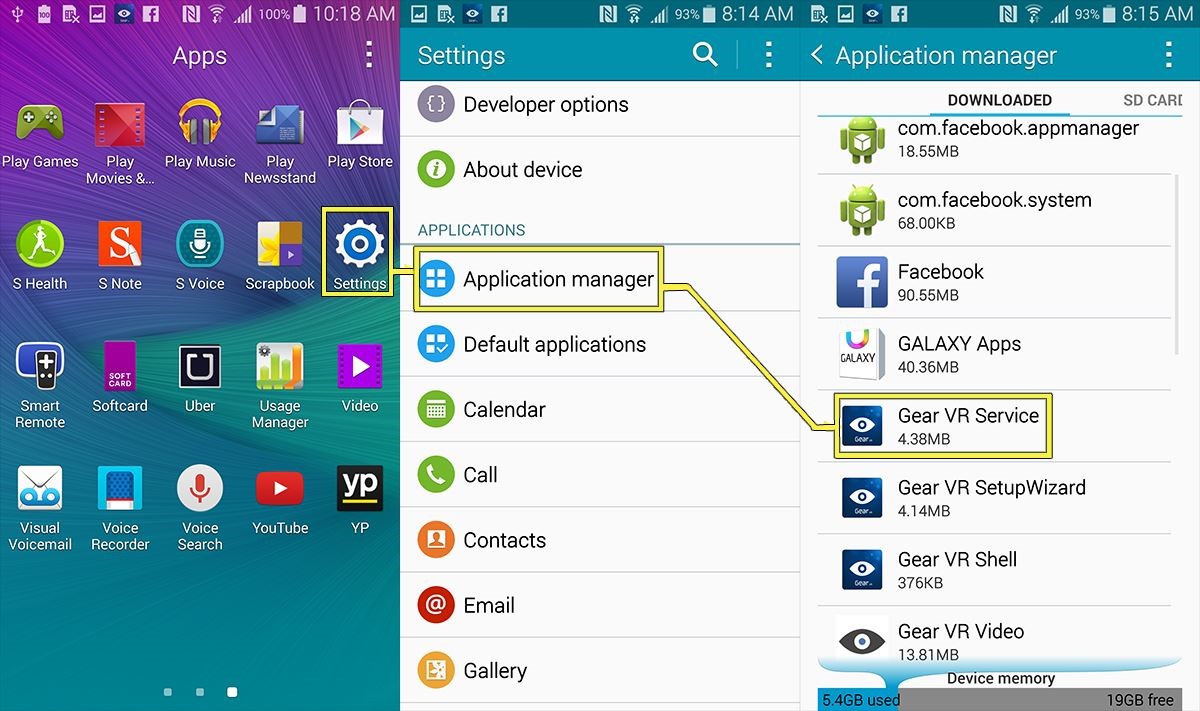 Step 8
Next tap on the Manage Storage option.
Step 9
Then tap on the VR Service Version 6 times.
Step 10
You should now see a scan process happen and when completed you should see the Developer Mode toggle on the screen.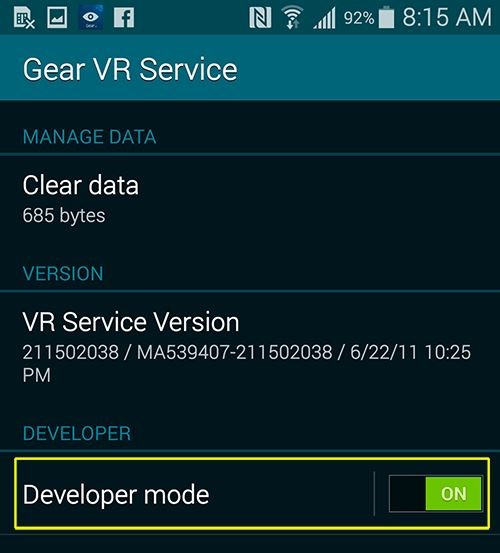 Now you should be able to launch your Gear VR Project and have it display without having to use the Gear VR Headset. If for any reason you need to disable VR Developer mode just slide the Developer Mode slider from On to Off and VR Developer mode will be disabled.
Step 11
First make sure that you have enabled Gear VR Developer mode on your phone. This way you can launch your project and see it without having to use the Gear VR Headset which, if used, would prevent you from being able to touch your phone's screen.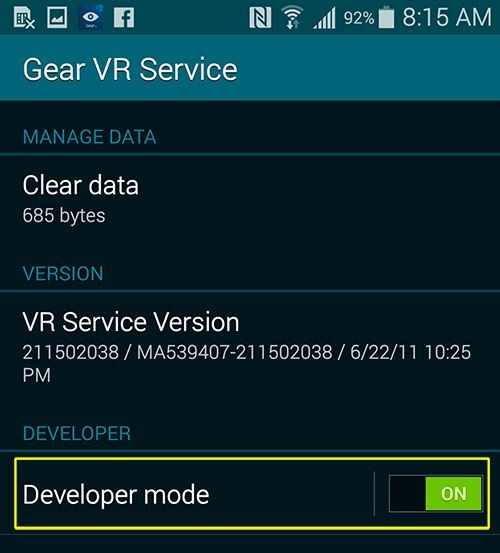 Step 12
Next launch your Gear VR project by tapping on the projects icon to launch it. When the project has been launched, you should see something looking like this on your phone
Final Words
This tutorial's objective was to download Gear VR demo under UE4 into Note 4 and how to execute the App(debug mode). Complete construction details for developing Gear VR with UE4. Once the concepts were conveyed the reader could download Gear VR App using UE4 and execute at the Real Android Device.
Speculating future work, derived from this tutorial, includes packaging VR simple demo and download and execute Gear VR Project to use Android smart phone with Gear VR. In the big picture, the problem of executing Gear VR project using UE4 at the Real Device can be solved with this tutorial. Click here to email me
gear_vr_project_packaging_and_execute_app_at_the_real_device.txt · Last modified: 2016/10/16 16:36 by dwallace