Table of Contents
Create a New AL
Author: Yu Hang He
Email: hey6@unlv.nevada.edu
Date: Last modified on <10/25/18>
Keywords: Hubo 2, PODO 3, Ubuntu, AL, QT GUI

Motivation and Audience
The tutorial serves as a guide for packaging DRC-Hubo inside road case for transportation. The tutorial will present a checklist of necessary equipment for live demonstration with DRC-Hubo. Next, a detailed step of packing DRC-Hubo is presented. A rough video recording of the process is added at the end. Author of this tutorial assumes the reader has the following background and interests:
* Familiar with DRC-Hubo

The rest of this tutorial is presented as follows:
Equipment List
The following is a check list of equipment that are necessary for Live Demo with DRC-Hubo in off-laboratory location.
DRC-Hubo Power Supply and its accompanying power cable

Emergency stop button and its accompanying cable

Emergency remote kill switch (key fob)

DRC-Hubo Battery (Loaded with DRC-Hubo for transportation)

DRC-Hubo Battery charger

Joystick controller and its Bluetooth receiver

Very long HDMI Cable and USB cable

USB Hub and USB cable extension

Wireless Router for remote control and Ethernet cable

Alienware Laptop setup with VNC control for DRC-Hubo

Keyboard and Mouse

Monitor and its power cable

Pack gantry, gantry battery, gantry battery charger, and its associated screws
Packing Instruction
Before packing DRC-Hubo, mount the front and back cover of the robot torso to protect the computer and wiring

Make sure the power on DRC-Hubo is off before start packing

Place the road case on a heavy duty trolley

Layer the bottom of road case with foams and a pillow in the front as shown
Bring the road case underneath DRC-Hubo and gantry

Bend both knees and gradually lower hubo until both legs can move inside the road case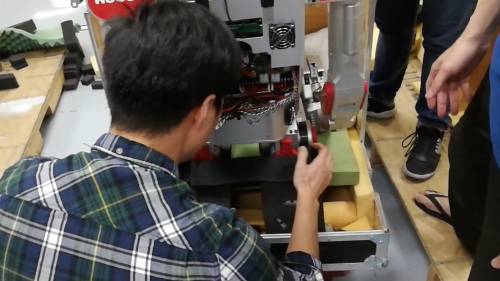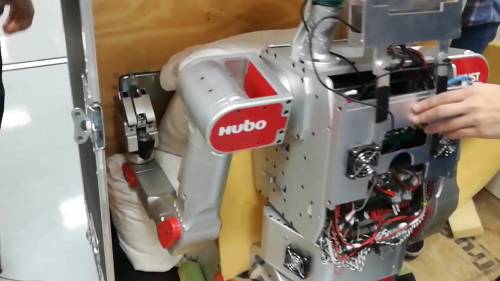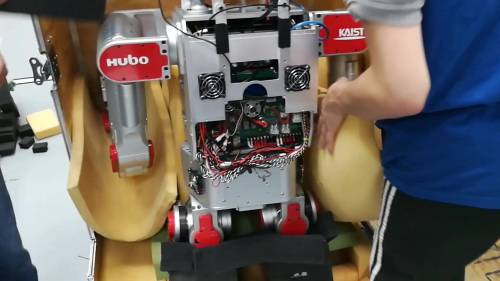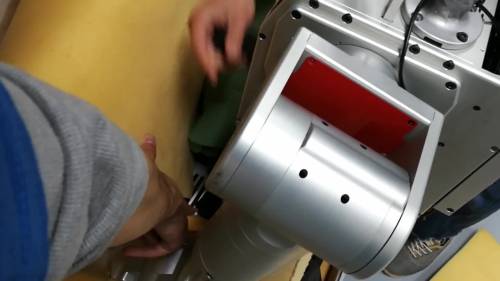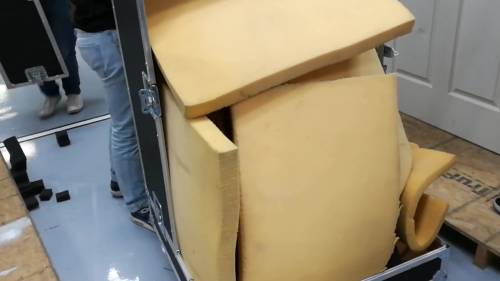 Video Recording
Final Words